About Us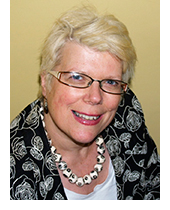 Dr Carrie Pemberton Ford


Carrie has been leading the work of IbixInsight partnership now for the fifteen years – with the attention to Gender Equity, Diversity and Inclusion continuing to be a hall mark of the efforts made by this bespoke consultancy – whose reports have continued to make a sustained impact for those who have had them commissioned.
But it isn't only in the area of front-line research and report production for evidence based policy making which makes IbixInsight a consultancy of choice for a wide range of organisations, at National, International and Local level.
Known for her resilient and compassionate, intelligence led determination to seize the heart of the matter, and to work innovatively on reframing the challenges facing organisations until collaborative and sustainable solutions can be found – Carrie's work as a researcher and troubleshooting consultant, is also complemented by her skills as a negotiator, mediator and executive coach. Add to this the Academic skills to enrich the training and teaching which IbixInsight offer with ILM and CPD accreditation – and there is a wonderful one-stop solution for those working on opening up tough questions for their organisation, be that in Public Sector arenas of enforcement, Social Protection, or businesses seeking to establish value rich community engagement.
Carrie has opened the door to increased innovation and participation in addressing exclusionary behaviours in organisations, migration and community cohesion challenges, cultural and systemic resistance to genuine Gender Equity in economic and social justice frames (FGM, Honour based Violence, Coercive Constraint) and is a genuine kick starter to address diversity stall for board level strategy thinking. A Women's National Commissioner in the early days of increased female representation in public service, her clients have included the Home Office, Ministry of Justice, The Serious Fraud Office, dozens of Councils at Local, District and Regional levels, DG Home, the EU Commission, and a number of multi-agency European collaborations, numerous national and international faith based organisations, who recognise her skill in 'listening to voice', and reframing secular -faith divisions to a mutually beneficial conclusion.
Carrie has consulted widely on the area of inter-cultural translation, and the importance of developing culturally intelligent working teams. Recently the UNITAR fellow appointed to address Gender Diversity and Equity issues in UN based Training and Research projects, Carrie has consulted with NATO, UK Human Trafficking Centre, National Policing on Human Trafficking and Migration policy, and delivered Strategic planning workshops for a number of International institutions including Luxembourg, Uppsala, and Barcelona Universities, the UNODC and the African Development Bank in Cote D'Ivoire.
Carrie has assisted hundreds of individuals and facilitated scores of teams to realise their full potential, overcome 'toxic foreclosure' with a sensitive understanding on many of the common issues which cause numerous team enterprises to fail or underperform, and a powerful ability to enable people to feel validated and heard. For this aspect of her work do be in touch with her at Cambridge-Executive-Coaching.com.
Carrie's ability to distil the 'heart of the matter' from all the noise generated by systems struggling with complexity, and to bring Board and Operational Staff into a shared vision with momentum for focussed and agreed change, has been realised across the NGOs, businesses and the Public Sector organisations in which she has worked. She was a founding board member for the paradigm shifting UK Human Trafficking Centre, and produced the Home Office policy changing report – Policing Complex Communities, based on Peterborough's experience of rapid inward migration during EU Accession, which resulted in the launching of the Migrant Impact Fund in 2006.
She is a compelling, thought provoking public speaker, and a powerful advocate for those who find themselves excluded from the mainstream processes of society. Carrie has worked, through IbixInsight's pro-bono work on developing a number of innovative and instrumentally effective charities and community interest based organisations here in the UK and internationally. Along with Jane Brookes, Carrie is also a trained Safeguarding trainer, able to assist in developing your long-term safeguarding strategy for your organisation where appropriate.
If you are looking for way to open what seems to be something of a closed door, a 'hidden' or wicked problem for your organisation, or a raft of bespoke CPD training for your team – then Carrie and the fantastic team which she has built around her, are the people to connect with.
Looking forward to being in touch.