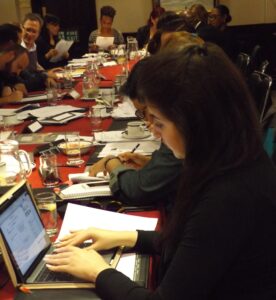 Our team of professional consultants and facilitators, can deliver both on site, or a range of online trainings for your business or organisation across the portfolio of our expertise, for CPD, onboarding, and bespoke training. We look forward to hearing about your professional development requirements and seeing how our team and resources can assist you going forward.
On-line trainings delivered during 2020 – COVID 19
Renewing the African Mind-Set (Nigeria /UK)– Surrogacy and Women's Empowerment?
Renewing the African Mind Set – Human Trafficking and Modern Slavery
Renewing the African Mind Set – Tackling the Scourge of Sexual Violence – RAPE
IJM Webinar on the Entitlement of the Minimum Wage as a fundamental right (India) 11th July 2020
"Anti Human Trafficking" School of Law, Satyabhama Institute of Science and Technology (Deemed to be University) India 20,000+ attendees.
The bottom line of Human Trafficking in contemporary business practices. Judge Business School University of Cambridge UK
Seminar on Technology and Human Trafficking – Gender aspects of concern – CCARHT and University of Nicosia 2k participation
Convened and Chaired week-long International Symposium on line (WebEx) 83 Panellists, 17 countries represented, on the Sustainable Development Goals – 37 hours of web delivered training and discussion. June 2020.
Convened and Chaired two-day Master-Class on zoom – Socratic style training on Human Trafficking and Psychology, Criminology and Sociology. Emerging scholars papers inter-alia on the  impacts of trauma, and the challenges of sexual exploitation, the vulnerability of the LGBTQi communities to trafficking recruitment, and the complexities surrounding effective inter-disciplinary partnerships.
Lecturer on Women's Empowerment and Gender Equality
Romanian American University,  
University of Palermo,
IJM  Berlin conference on Women's abuse within the Sex Industry,
International World Mission,
SAFE conference Chicago 2019,
University of Cambridge (various courses and special seminars)
International Justice Mission,
CCARHT Summer Symposium,
University of Edinburgh,
University of St Andrews,
University of Uppsala,
University of Roehampton,
University of Birmingham,
Diocese of Europe Safeguarding training workshop.